Numerological day analysis of 30-3-2021 11/2  Master number, Genius or Madness/ Duality; Intuition or Doubt?
Inspired by Revolution you want achieve Mastery today. Mastery may be defined as the level where you surpass form and content in order to create something revolutionary.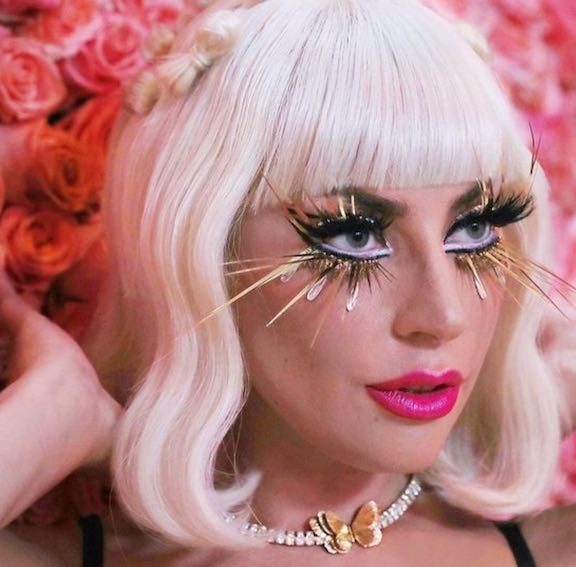 30-3-2021 11/2  Master number, Genius or Madness/ Duality; Intuition or Doubt?
Spirit: 30 Revolution; Creative Will
Soul: 3 Will to change; Overcoming Polarity; Conscious Decision.
Body: 21 Insight
The sum total of today is 11: Mastery. You want to achieve mastery and thereby increase your intuitive capabilities, through your spirit's revolution, your soul's will to change and your physical insights.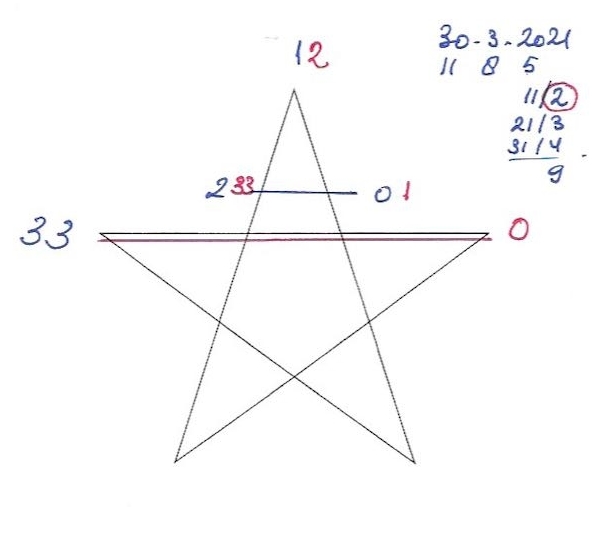 Themes
No major themes (axis) today. As you can see in the Pentagram it is all about integrating spiritual and mental awareness.
Levels of awareness
Your spiritual and mental awareness is high today. Your spiritual awareness is obtained through 'Unconditional Love' and the 'Factor of sacredness' . Your mental awareness is obtained through 'Vitality' and "Descend from the Cross'.
Both levels give you the desire to intuitively 'Know God' and the desire to manifest the Divine Connection. In practical terms is means that you listen and act upon your intuition, your insights, your inspiration, your 'hunches' as opposed to listening to your instincts.
Triangle
Your spiritual and mental awareness is further enhanced through the connection with the 1st principle. It wants you to intuitively live the Feminine Eros, to physically manifest vitality and to show feminine goodness, benevolence, humility and beauty.
Special attention-Shadow work
In the top triangle of the Pentagram – the spiritual triangle- all the points have blue/red numbers, indicating the importance of those numbers for today.
Our universe originates from the "Chaos", today represented by the number 101 (blue/red 01), Indicating that we have to Bless everything we encounter in our life even when it hurts. The Chaos brings us to "Unity" , with the number 12 (blue/red 12) indicating that our inspiration, our guidance comes  from Perfection. We contact perfection through our "Duality", with the number 23 (blue/red 233), indicating that our duality is experienced through intuitive Unconditional Love. It then becomes manifest in our mind through a 'Divine Connection" , like a wire with 'above' (blue 33).
The challenge lies in bringing all this incredible spiritual and mental energy into life, in order to show itself in "Wisdom" – in the sense of the Descent from the Cross or the Death of the Ego-represented by the number 90 (red 0).
The first step to bring all this spiritual and mental energy into being, is by accepting and integrating your shadow. In your shadow most of the blank points in the pentagram are activated. The only blank point remains the 4th, which is the first step of manifestation. There you may have to show your real mastery. To get you started, you may begin with creating simple physical stuff , like a drawing, writing a short story, bring out the garbage, sweep the floor or clean the room. The rest will follow.
May you find your inner Master.
Note: If your birthday is today, the topics described above are your topics for 2021. Should a baby be born on this day, then today's themes are the baby's life-themes.
See you (virtually) :
(NL) Werkgroep 9 April 2021.
(D) Arbeitskreis 16. April 2021.
Photo credit:  Tiffany & Co.
For a full explanation of the numbers and how to work the Pentagram read the book: NumeroLogic. The numerology of the Pentagram. To order the book and for a free intro course please go to:   https://pentalogie.com (English) or www.numerologic.de (German)