Numerological day analysis of 22-9–2020 17/8 Goodness, Benevolence, Humility & Beauty/ Feminine principle, Yin, Eros, Art, Growth and Decay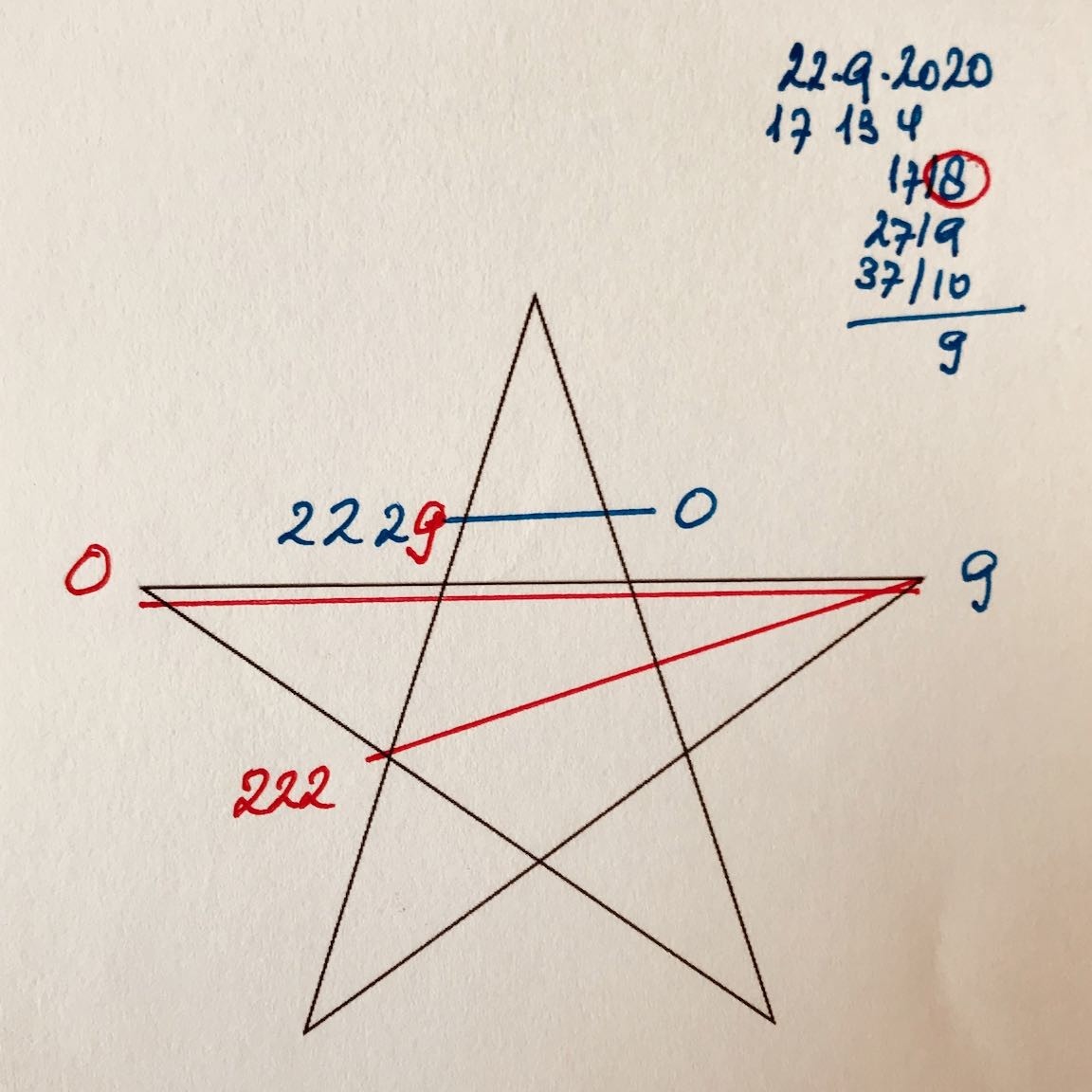 Inspired by mysticism, you want to bring goodness, humility and beauty into the world, with the feminine principle of eros, yin, art, growth and decay as essence. Mystics understand life beyond the rational mind. Perhaps Zen Koan's might inspire you.
22-9–2020 17/8 Goodness, Benevolence, Humility & Beauty/ Feminine principle, Yin, Eros, Art, Growth and Decay
Spirit: 22 Mystic
Soul: 9 Wisdom; Intelligence; Communication; Sensitiveness; Reason
Body: 20 Immortality, Eternal life
The sum total of today is 17/8: Goodness, Benevolence, Humility and Beauty resulting in the feminine principle  This you want to live and express through your spirit's mysticism, your soul's wisdom and your physical immortality.
Themes
This daring process is driven by one major theme today: 'Focus-Fate'
Red 222 – Blue 9: The axis of Fate, Focus and Concentration
Your inner awakening and leadership drives your quest for focus and concentration. Your inner leadership makes you decide what to hold on to and what to let go of. Focussing – thus avoiding Fate- is a dominant feature in your life. The two driving forces are the Spiritual Mountaineer coming from the emotional level to join with Healing Magnetism coming from the mental level. Your feelings are reaching for the highest expression of your spirit, whereas your mind wants to heal through its magnetic powers, through transference of energy, being a cosmic antenna.
Spiritual Mountaineer
The spiritual mountaineer is capable of translating ideas and inspiration immediately into action or physical form. Basically capable of manifesting any idea with success. This holds the danger of a deep fall, as such a steep path is also very narrow and you may fall off. A prerequisite is a deep love for yourself.
Healing Magnetism; Cosmic Antenna
Healing magnetism holds the ability to heal in a magnetic and even magical way, by transferring energy, like in Reiki. Most people with this number are unaware of this capability. The danger lies in the misuse of power turning this gift into an self-oriented addiction.
The balance of the two principles lies in their sum: the higher dimension of vitality. What is bigger than a human's vitality? Divine vitality. Once you hit the right balance on this axis you will experience a sense of heightened vitality in yourself and in the people and animals around you. (Especially animals pick up on this higher energy very quickly) Beware: Should you misuse your gifts and avoid to focus, the energy may turn against you, creating unexpected Fate and low Vitality.
Levels of Awareness
You have high spiritual and mental physical awareness today. '
Your spiritual awareness is obtained through the awareness of 'Serving, healing, aiding and  the awareness of the 'Doctor's number'. Spiritually you are very aware of bringing healing and wholeness. Its goal is to intuitively live the feminine Eros; to physically manifest vitality and to show the feminine goodness, humility and beauty.
Your mental awareness is obtained through Revolution and Healing magnetism.
The goal is to Intuitively show the Sun-Child in you. To be the public person who stands in the middle of attention, being a role model for others. The goal is also to have Powerful Insights, like a powerful inner  sun rising up in you.
Note: If your birthday is today, the topics described above are your topics for 2020. Should a baby be born on this day, then today's themes are the baby's life-themes.
See you (virtually) :
(Nl) Werkgroep, 9 Oktober 2020.  Send me a PM for more info.
(D) Arbeitskreis 23 Oktober 2020.  Send me a PM for more info.
Istanbul (T) Personal reading and Course 1 and 2: 7-11 October http://www.bilgipaylasim.com.tr