Numerological day analysis 23-10-2020 10 Transformation, Transition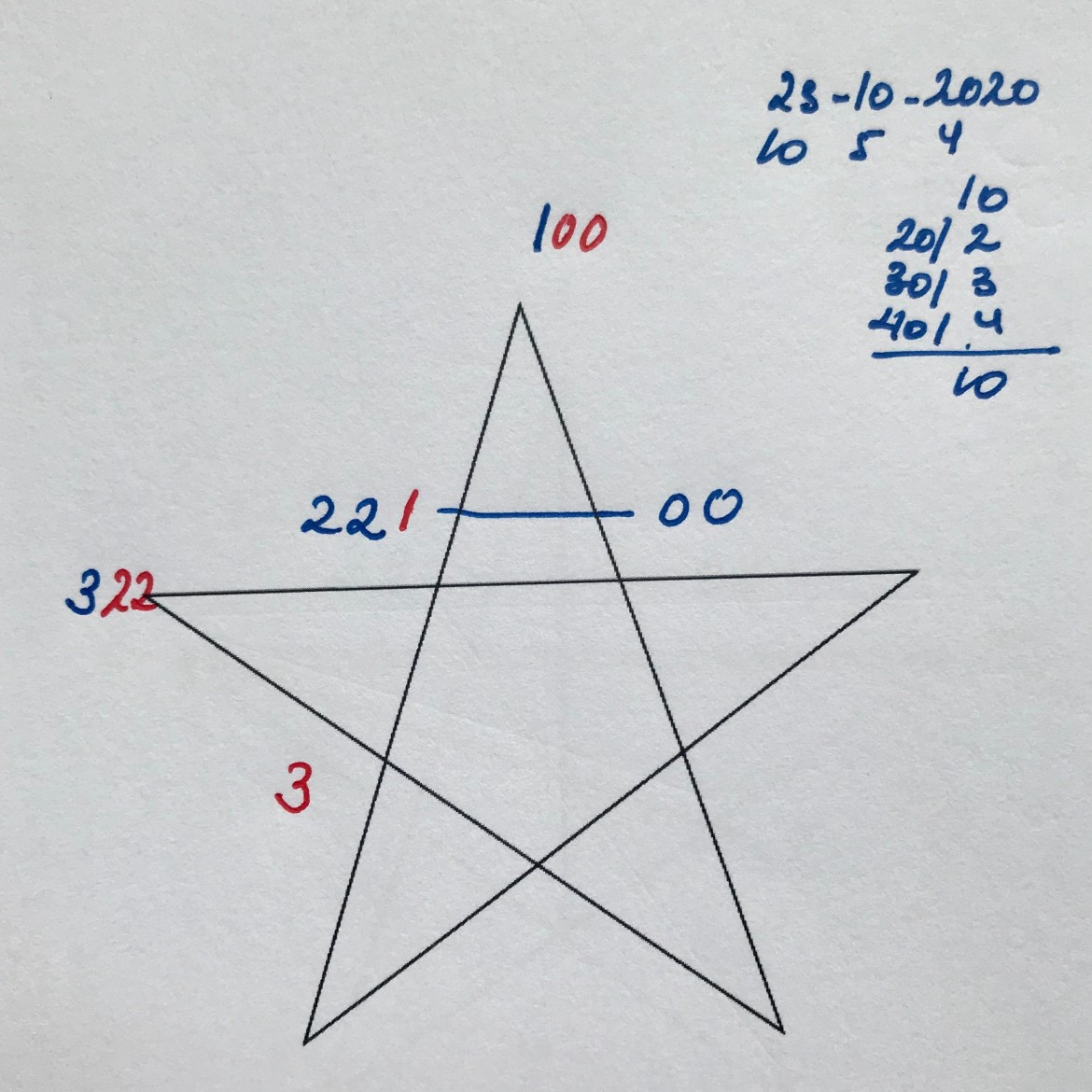 Inspired by Unconditional Love you want to Transform today. What deeper source of transformation may one find? Take care to not fall in the flip-side and cry out for love, that only stifles the process.
23-10-2020 10 Transformation, Transition
Spirit: 23 Unconditional Love or "Cry for Love?"
Soul: 10 Transformation, Transition
Body: 20 Immortality
The sum total of today is 10 Transformation. You want to transform yourself and others today through your spirit's unconditional love, your soul's transformation and your physical immortality.
Themes:
No axis in the Pentagram today, this means that your processes are more outward bound today. They are more about how you engage with the world around you.
The spiritual energy in the Pentagram is very high today. When you look at it, you see the static blue numbers 0-1-2-3 are active and are being stressed even more by the dynamic red numbers 0-1-2-3 almost right on top of them. It means that through the direct access to the Source or Chaos (00) , you get into Unity and Transformational Inspiration (100), giving you strong intuitive Insights (221), that form Divinely  connected concepts and decision (322). Those concepts and decision then need your conscious decision to manifest them (red 3).
Levels of awareness
Your process of Transformation is supported today by a high level of spiritual awareness created by your Insights and your Telepathic gifts. The goal is to bring out the intuitive divine sexuality (if you don't you will start doubting your 'aliveness');  to let your healing and salvation powers expand and to bring transformative renewal and rebirth to the world.
Triangle
Your spiritual awareness is further enhanced today through the connection to the 1st principle. It gives you the energy of Transformational Charity, the power to Manifest your Free Will, to Expand your Femininity and to become Self-Aware of your Immortality.
Special attention:
There no numbers on the feet, so staying connected to earth, staying 'well-grounded' may pose a problem. With all the spiritual energy of today wanting you to "lift off" it is very important to stay well grounded. So go for a walk in nature or go dancing. Use and feel your feet to stay present.
Note: If your birthday is today, the topics described above are your topics for 2020. Should a baby be born on this day, then today's themes are the baby's life-themes.
See you (virtually) :
(D) Arbeitskreis 23 Oktober 2020.  Send me a PM for more info.
(Nl) Werkgroep, 4 Oktober 2020.  Send me a PM for more info.